What Does It Mean To Be A Member of 'Texans For Every Drop'?
You support the preservation of the Hill Country's scenic beauty and cultural heritage.
You recognize that your business helps sustain a large part of what makes Texas a unique place to live and work.
You understand that the work of the Greater Edwards Aquifer Alliance depends on support from business owners like you.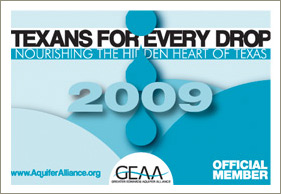 Benefits of Joining 'Texans For Every Drop'
A colorful window/door decal identifying you as a business that cares about the "Hidden Heart of Texas"
Recognition of your business on our website, in our printed materials, and in e-mails sent to GEAA members
Informative social gatherings for news, updates, GEAA's progress, and provide excellent networking opportunities

You have reached the Greater Edwards Aquifer Alliance Secure donation page for Texans For Every Drop. Please enter your business membership information, and you will then be sent to a secure store page to complete your donation. GEAA respects your privacy and we do not share your information with any other groups. You can also send a donation too to our mailing address if you prefer.
How To Become a Member of 'Texans for Every Drop'
I would like to help protect the "Hidden Heart of Texas," the Edwards Aquifer and the Texas Hill Country with my tax-deductible contribution of: